Among all personal injury lawsuits in the United States, slip and fall accidents are among the most common. While many people think of slip and fall accidents happening to customers and patrons of restaurants and supermarkets, this type of injury can really occur just about anywhere. If you are injured by a slip or fall on another person's property, you have the right to seek compensation for your injuries.
Proving negligence for your slip and fall injury can be a complex situation though. Because of this, it is important to have an experienced Chattanooga personal injury attorney to assist you through the entire process. To schedule an initial consultation to find out if you have a valid slip and fall claim, please call Herbert Thornbury, Attorney at Law at (423) 443-3973 today.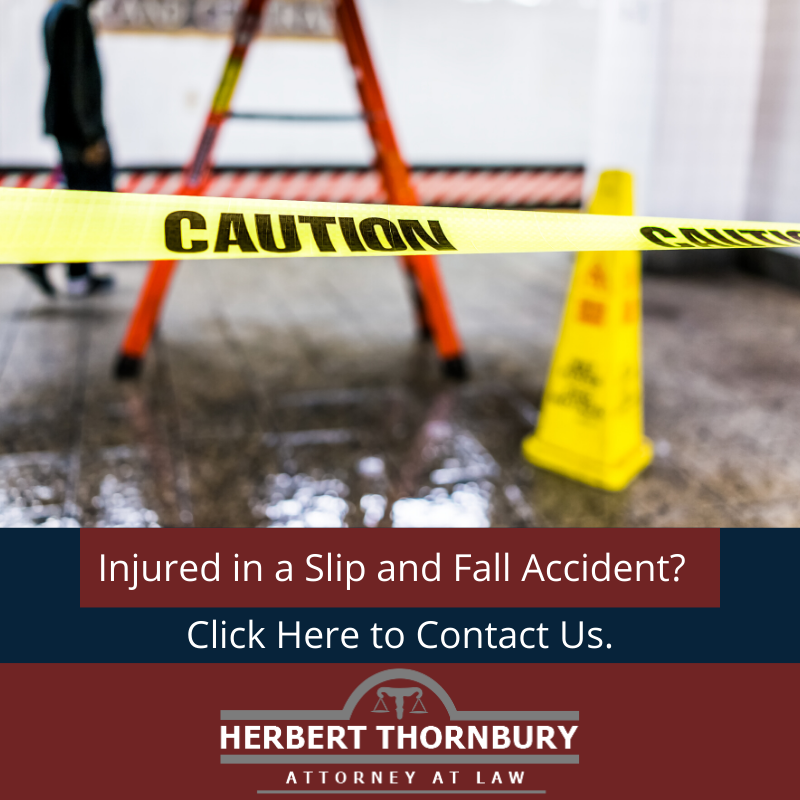 Causes of Slip and Fall Accidents
Slip and fall accident cases are so common because the causes for personal injury are all around us. There are many hazards that can lead to slipping or tripping, such as:
Wet floors
Cluttered floors or walkways
Uneven surfaces or loose floorboards or tiles
Defective sidewalks
Degraded or torn carpeting
Potholes in parking lots
Debris or loose gravel
Uncleared ice or snow
Unstable handrails
Poor lighting
Defective or badly constructed stairways
Improperly lit walkways or stairs
Inclement weather
While premises liability cases are the most common when it comes to slip and fall accidents, nursing home abuse and neglect are other all too common occurrences.
It is clear that potential causes of slip and fall accidents are everywhere, but these accidents are preventable and property owners and shopkeepers have a legal responsibility to maintain their premises.
What Are Some Immediate Steps I Should Take After a Slip and Fall?
After being injured in a slip and fall accident, you should seek a medical evaluation from a trusted physician. If your injury is severe, you will want to contact our office as soon as possible.
Insurance companies often quickly offer a settlement when serious injury is involved. Unfortunately, accepting an offer from insurance will prevent you from taking legal action to seek proper compensation. If your injury is severe, it is always best to talk to an attorney after a slip and fall accident.
How Do You Prove Negligence in Slip and Fall Injury Cases?
Property owners and managers are legally obligated to ensure their premises are safe for intended uses. You are entitled to seek compensation through legal action when you are injured due to someone else's failure to create and preserve a secure environment.
Proving negligence may require accident reconstruction, witness depositions, emergency personnel reports, medical records, and more. Attorney Thornbury will gather the necessary evidence to establish fault.
How Much Is My Case Worth?
Each personal injury claim is different. Therefore, how much your case is worth depends on several unique factors.
Victims of serious injury following slip and fall accidents may be entitled to pursue damages for:
Medical Expenses
Lost Wages
Therapeutic and Rehabilitation Services
Personal Pain and Suffering
The best way to learn what your case may be worth is through a consultation at the Chattanooga office of Herbert Thornbury, Esquire.
What if I Slip and Fall and Get Hurt at Work?
If you are injured in a slip and fall accident at work, you may be able to file a workers' compensation claim. If your accident was caused by someone else or was the result of third-party negligence, you may be entitled to seek compensation through a personal injury lawsuit. Talking to Attorney Thornbury about your claim is an excellent way to learn which option is best for your situation.
I Fell on My Friend's Steps. She Lives in a Rental Property. Who Pays My Bills?
Hurt yourself at a friend's house? Don't worry; your friend is not on the hook. If they own the property, their insurance should cover your bills. If they rent, the property owner's insurance will be responsible.
Property owners are required to carry liability insurance. When you are injured on someone else's property, their insurance will pay your bills. Be careful, however. Insurance companies are infamous for underpaying victims of serious injury. If your injury is severe, you need to talk to a lawyer before you accept anything from insurance.
If you have been hurt in any kind of slip and fall accident, seek the help of experienced Chattanooga personal injury attorney Herbert Thornbury as soon as possible to ensure you get the compensation you deserve. Mr. Thornbury will investigate your case and help you determine if your injuries are due to the negligence of another. To schedule a consultation, please call our law office at (423) 443-3973 today.