Among all personal injury lawsuits in the United States, slip and fall accidents are among the most common. While many people think of slip and fall accidents happening to customers and patrons of restaurants and supermarkets, this type of injury can really occur just about anywhere. If you are injured by a slip or fall on another person's property, you have the right to seek compensation for your injuries.
Proving negligence for your slip and fall injury can be a complex situation though. Because of this, it is important to have an experienced Chattanooga personal injury attorney to assist you through the entire process. To schedule an initial consultation to find out if you have a valid slip and fall claim, please call Herbert Thornbury, Attorney at Law at (423) 443-3973 today.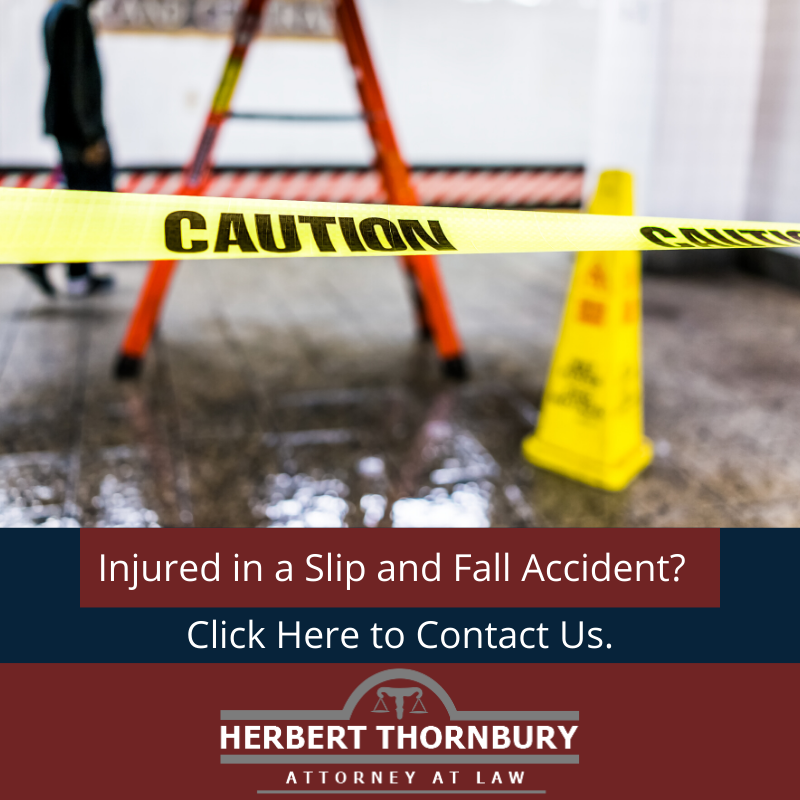 Causes of Slip and Fall Accidents
Slip and fall accident cases are so common because the causes for personal injury are all around us. There are many hazards that can lead to slipping or tripping, such as:
Wet floors
Cluttered floors or walkways
Uneven surfaces or loose floorboards or tiles
Defective sidewalks
Degraded or torn carpeting
Potholes in parking lots
Debris or loose gravel
Uncleared ice or snow
Unstable handrails
Poor lighting
Defective or badly constructed stairways
Improperly lit walkways or stairs
Inclement weather
While premises liability cases are the most common when it comes to slip and fall accidents, nursing home abuse and neglect are other all too common occurrences.
It is clear that potential causes of slip and fall accidents are everywhere, but these accidents are preventable and property owners and shopkeepers have a legal responsibility to maintain their premises.
If you have been hurt in any kind of slip and fall accident, seek the help of experienced Chattanooga personal injury attorney Herbert Thornbury as soon as possible to ensure you get the compensation you deserve. Mr. Thornbury will investigate your case and help you determine if your injuries are due to the negligence of another. To schedule a consultation, please call our law office at (423) 443-3973 today.