Tennessee highways can be a dangerous place for motorists, especially with an overwhelming number of semi trucks on the road. While any type of auto accident can have serious and even deadly consequences, semi truck accidents tend to be more devastating and more legally complex than car accidents.
If you are a Chattanooga, Tennessee resident who has been injured in a semi truck accident, Herbert Thornbury can help you get the compensation you are entitled to. Call (423) 443-3973 to schedule a complimentary consultation with our experienced truck accident attorney today.
Common Injuries from Semi Truck Accidents in Tennessee
Because of the size and limited maneuverability of semi trucks, these types of accident tend to cause severe damage to other drivers on the road. The damage to other cars from the initial crash, a post-crash pileup, or debris on the roadway can create a large number of potential claims. If you have questions about truck accidents, Herbert Thornbury's experience with the subject will allow him to give you an answer.
If you are involved in a semi truck accident, it is highly probable that you will sustain some type of injury, and in many cases, these can include:
While not every accident is fatal, semi trucks accidents can leave you with debilitating personal injuries that negatively impact how you live your life. Unfortunately, getting the compensation you deserve can involve a complex legal process. Mr. Thornbury has represented a number of clients in Tennessee semi truck accident claims, and he will make it his priority to help you get the reparation you are entitled to.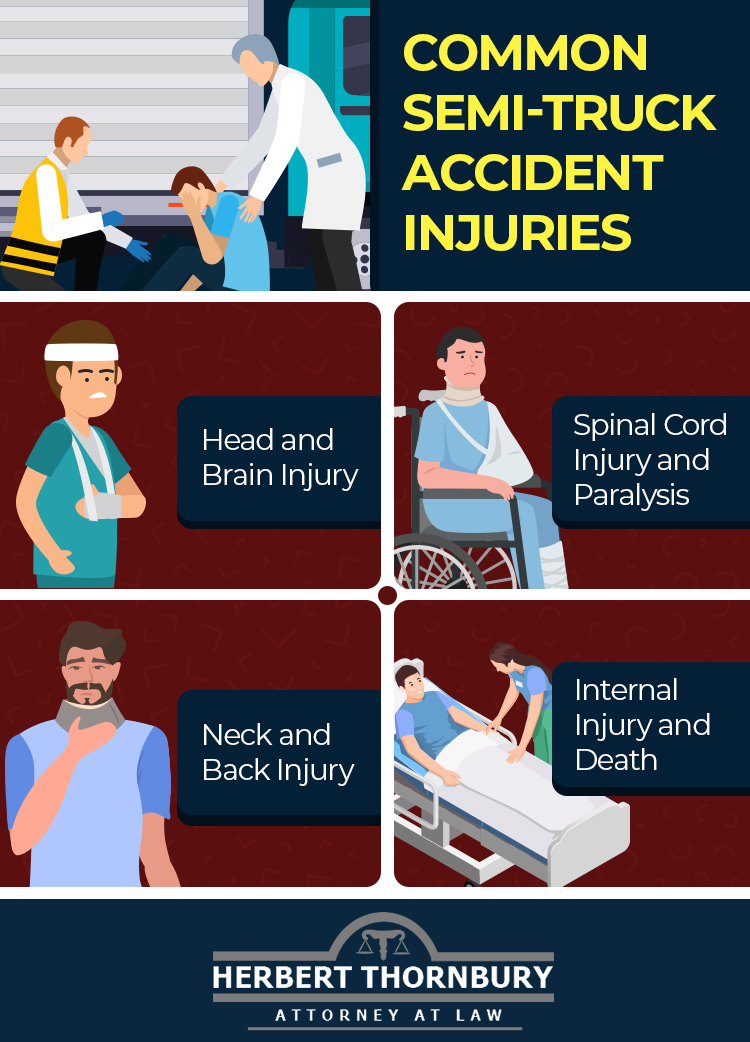 Legal Process for Truck Accident Claims in Tennessee
While it may seem obvious that you are entitled to compensation, determining who or what caused the accident and how much the damages are worth can be complicated. Because semi trucks are commercial vehicles, there are a number of different parties who may be held liable including:
The driver of the truck
The owner of the truck
The motor carrier company
The trucking agency
The truck's manufacturer
The freight or loading company
To determine truck accident liability, you'll need an experienced Tennessee truck accident lawyer who knows how to properly subpoena records, who is familiar with federal trucking regulation violations, and who understands your rights. By identifying the responsible parties and pursuing compensation accordingly, you have a much better chance of getting the financial damages you want and the justice you deserve.
Contact our Chattanoogai Truck Accident Attorney Today
If you have been injured in a semi truck accident in Chattanooga, Tennessee, contact Herbert Thornbury Attorney at Law at (423) 443-3973 to schedule a cost-free consultation with an experienced truck accident lawyer today.