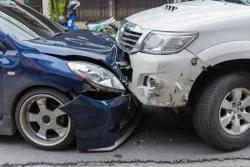 Automobile accidents can always be complicated from an insurance and legal standpoint. When you are involved in an auto accident in Chattanooga, Tennessee with an uninsured or underinsured motorist, the process may become even more confusing.
Insurance law in Tennessee allows all motorists to carry underinsured/uninsured motorist coverage, and if you have a current policy, working with your insurance company may help cover some of your losses. However, the coverage offered by insurance companies is often inadequate to fully cover the damages to you, your property, and your passengers, making the inclusion of an experienced Tennessee car accident attorney all the more necessary.
For a complimentary, no-obligation consultation regarding your car accident claim, call our Chattanooga law office at (423) 443-3973 today.
Collecting Insurance Benefits
It is estimated that up to 30% of Tennessee drivers carry the absolute minimum in insurance coverage. Your uninsured/underinsured coverage is intended to cover all costs for your personal injuries above and beyond what the other driver's insurance will pay. In order to collect this additional amount, you will need to prove the other driver is liable for the car accident, and that the injuries you sustained were significant enough to warrant additional compensation.
The process for determining liability and assessing the extent of your damages can be trying and long. During this time, your medical bills, personal suffering, and other losses can compound to make your life terribly difficult. When insurance companies are dragging their feet, or tying your claim up in red tape, having a committed auto accident attorney on your side can help simplify and expedite this process.
When to Contact an Accident Attorney
As important as it is to have complete insurance coverage in the case of an auto accident, often times these policies are not enough. Before filing your initial claim, you should contact a car accident attorney for assistance. Involving an attorney with sufficient experience to help you through each step of the claim can be a determining factor in how much compensation you receive and how quickly you receive it. In addition, when insurance is insufficient to cover all of your losses, only a car accident attorney can assist you in getting the full compensation you deserve.
Client Testimonial
Read what our patients are saying!
"Words cannot express how much me and my family appreciate what you did for me.  I could go on and on but the bottom line is that you probably kept my life together.  I know who to call for any legal advice next time: Thornbury."
Click here to read more reviews.
Other Accident Cases We Represent
Contact Our Chattanooga Car Accident Attorney Today
If you live in or around Chattanooga, Tennessee and have been injured in a car accident involving an uninsured or underinsured motorist, please contact Herbert Thornbury Attorney at Law at (423) 443-3973 for an initial consultation.