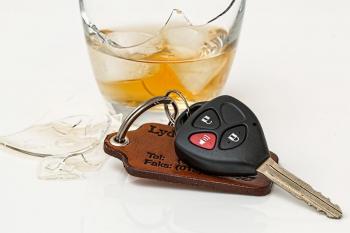 Being involved in a car accident is always a traumatic experience. But insult is added to injury when your accident is caused by the negligence of an intoxicated driver. Drunk driving is the pinnacle of carelessness, and victims of drunk drivers have a right to seek damages in these egregious cases. If you or a loved one has been injured by a drunk driver, turn to Chattanooga car accident lawyer Herbert Thornbury to help you get the compensation you deserve. Please call our law office today at 423-443-3973 to schedule a free case evaluation.
What Qualifies as Driving Under the Influence?
In the state of Tennessee, a motorist is automatically considered to be driving under the influence if he or she has a blood alcohol content (BAC) over 0.08%. However, contrary to popular belief, a drunk driver can still be charged with a DUI even with a BAC under this limit if circumstances indicate that alcohol contributed to a car accident.
A drunk driver's carelessness can spell disaster for victims and their families. In addition to the emotional tolls, victims of drunk driving accidents may suffer from any number of physical damages, including
What Is the Difference Between Driving While Ability Impaired (DWAI) and Driving While Intoxicated (DWI)?
Under Tennessee law, driving a vehicle while impaired is known as Driving Under the Influence (DUI). DWAI and DWI can be used interchangeably with DUI, but the actual charge in our state is DUI.
DUI includes any type of intoxication, from alcohol to marijuana to prescription medications to methamphetamines and more.
DUI is a crime. When someone committing this particular crime harms someone else, they can be held liable for both economic and non-economic damages. These proceedings are separate from criminal proceedings and are best handled by a qualified attorney. If you need a drunk driving injury lawyer, call our office for a free case review right away.
What Happens if the Auto Accident I Was Involved in Was Caused by a Drunk Driver?
The driver may face criminal charges for driving while intoxicated. Criminal charges do not help victims of injury get compensation.
When you are injured by a drunk driver, you are entitled to hold that person accountable for any damages that follow. This can include medical expenses, lost wages, and property damage in addition to things like physical pain and emotional suffering.
How Can I Prepare for My Driving While Intoxicated Accident Case for Court?
In preparation for your case, it will be important to have details from the accident, testimony from witnesses, police reports, and notes from EMTs. It may be necessary to hire expert witnesses, digitally recreate the accident, and interview witnesses for the defense. This is in addition to meeting all filing requirements and keeping on top of any motions filed by the defense.
It is not typically wise to file a personal injury lawsuit without the help of an attorney. Preparing your own case is extremely complicated and your chances of success are quite limited with this approach. If you have been injured by a drunk driver, get in touch with our office to schedule a free case review and learn how we can help.
How Long Can a Case Take?
Personal injury claims, including those involving intoxicated drivers, can take anywhere from a few months to a few years to resolve. A bulk majority of these claims settle before trial. These will not take as much time as cases that go to court. During your initial consultation, we will assess your case and help you understand how long it may take to resolve.
What Are the Specific Laws Surrounding DUI in Tennessee?
Victims of accidents caused by intoxicated drivers are entitled to seek compensation beyond the offerings of insurance companies. This includes compensation for economic damages (bills and expenses), non-economic damages (pain and suffering), and punitive damages (intended to punish bad behavior), most of which will not be covered by insurance. This is one of the most compelling reasons to talk to an attorney before accepting an insurance settlement.
Intoxicated drivers are not afforded much leniency in Tennessee. Nor should they be. First-time offenders receive a minimum of 48 hours to seven days in jail, depending on BAC. In some cases, jail time for a first offense can be extended to nearly 12 months. People charged with DUI will also be required to pay fines and court fees and may face probation and community services in addition to driving restrictions. Subsequent offenses will result in more severe punishment.
Criminal charges have no bearing on personal injury claims. Regardless of the outcome of criminal proceedings, if you have been injured by an intoxicated driver, you are entitled to seek compensation. Call us today to learn more.
Why Choose Herbert Thombury Attomey at Law
If you are hit by a drunk driver, Chattanooga car accident lawyer Herbert Thornbury will tirelessly work on your behalf to recover damages. A drunk driver's insurance company is placed in an especially awkward position when its insured has been driving while intoxicated. If the motorist has been convicted of a DUI, their situation is especially vulnerable.
In such cases, insurance companies are often eager to settle out of court, knowing that juries overwhelmingly favor victims of drunk driving accidents. This means that the driver's insurer may agree to a much higher out-of-court settlement than it normally would, to avoid incurring potentially much higher damage awards in court. Our Chattanooga attorney uses his experience and understanding of your case to help you decide whether an out-of-court settlement or a trial is in your and your family's best interest.
Client Testimonials
"Herbert Thornbury is a great attorney! As part of my job, I work with a lot of lawyers in Alabama and Tennessee. Herbert ranks up there as one of the most knowledgable attorneys I've dealt with. " - L.T.
"An amazing lawyer. He cares enough to get to know you and your situation. Wonderful staff." - C.W.
Click here to read more reviews
Contact Us Today!
If you or a loved one has been injured in an accident involving a drunk driver, take the first step to recovering all of the damages you deserve. Please contact Herbert Thornbury today at (423) 443-3973 to arrange a free consultation with our Chattanooga car accident lawyer.