When you board a bus, you expect the professional driver behind the wheel to drive safely and reasonably. Unfortunately, careless bus drivers and other instances of negligence do lead to catastrophic accidents from time to time. If you or a loved one was injured in a bus accident in Chattanooga or the surrounding areas, you may be able to pursue compensation for the resulting injury and damages. For a free consultation, please call Herbert Thornbury Attorney at Law, at (423) 443-3973 or fill out our online contact form here.
Bus Accident Claims
These cases may involve virtually any type of bus, such as:
Large tour buses
School buses
City buses
Regional and cross-country buses
Our experienced attorney can determine the ultimate source of the accident and who should be held responsible. Buses may be owned and operated by private companies, government agencies, contractors or others. Determining who is accountable for the accident is part of what Mr. Thornbury does every day.
What People Say About Us!
"Thank you for your professional help! You are very thorough and sincere! Thank you." Scott
Click here to read more reviews
Common Causes of Bus Accidents
For the most part, bus drivers are responsible, safe professionals who do all they can to avoid a crash. But unfortunately, these drivers are susceptible to the same moments of carelessness and negligence as other motorists.
When a bus driver causes a crash, it may be due to one of the following:
Drunk driving
Distracted driving
Speeding
Reckless driving
Inadequate driving experience
Inadequate training
There are several other ways that the accident may be linked to someone else's negligence other than the driver's:
Defective roads
Inadequate bus maintenance
Defective automotive parts
Mr. Thornbury will review the details of your case for free, and then he can let you know whether you have a claim to pursue compensation. At our law firm, our team is committed to informing you of all of your options. We want you to feel comfortable with any decision you make moving forward.
Compensation for Bus Accident Claims
If you have a case, Mr. Thornbury will work aggressively to pursue maximum compensation on your behalf. In a successful recovery, compensation may be awarded for the following things and others: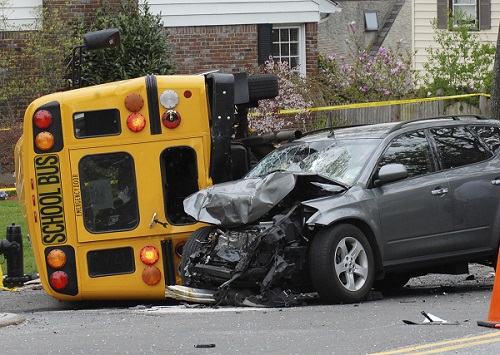 Current and future medical expenses
Rehabilitation costs
Prescription medication costs
Loss of income
Pain and suffering
As someone injured in an accident that was not your fault, you need and deserve compensation so that you can begin to heal and rebuild your life. Catastrophic bus accidents can have a serious impact on your life, costing you a lot of money, and causing you pain and emotional trauma.
Contact us for a Free Case Evaluation Today
To find out if you have a case, please call Herbert Thornbury Attorney at Law, at (423) 443-3973, or fill out our online contact form here for a free case evaluation. We are proud to serve Chattanooga and the surrounding areas. We do not charge you any fees unless compensation is recovered in your case.