Deceptively marketed and highly addictive, JUUL and similar vape pens have worked their way into mainstream culture through advertisements and social media campaigns targeting youth – a strategy that has clearly paid off for these companies as the use of their products reaches near epidemic levels. The FDA reports that the use of vaping devices, like JUUL, increased an alarming 78% among high school students and 48% among middle school students between 2017 and 2018, a time when sweet and fruit-flavored "e-juice" with incredibly high levels of nicotine was readily available. 81% of current youth vape pen users cite these flavors, seemingly designed for younger people, as a factor in their taking up the habit.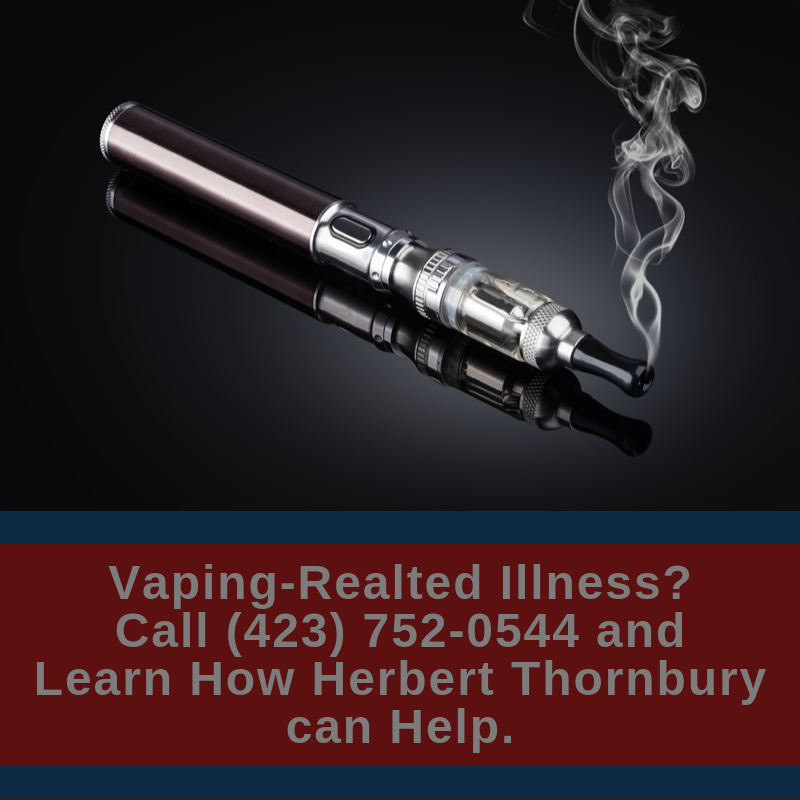 Has your child become addicted to vaping? The dangers may be worse than you expect.
Vape pens pose a number of serious dangers for both youth and adult users. In addition to a lifetime addiction to nicotine, vaping illnesses posed by of JUUL and similar devices include:
Nicotine Poisoning
Lung Illness
Respiratory Problems
Seizure
Cardiovascular Disease
Stroke
Hypertension
Equally worrisome, there are links between e-cigarette use and mental health or behavioral issues including suicidal ideation and attempts. If you have suffered any of these vaping pen injuries, please call Herbert Thornbury, Attorney at Law at 423-752-0544 to schedule a complimentary consultation at our Chattanooga office.
ENDS Devices, E-Cigs & Vape Pens
JUUL and similar vaping devices are Electronic Nicotine Delivery Systems (ENDS). Also known as e-cigarettes, e-cigs, or vape pens, these devices use a heating coil to vaporize concentrated nicotine, THC, and other drugs, allowing the user to inhale an aerosol rather than smoke.
When they were first introduced, vape pens were heralded as a safer alternative to smoking – something current smokers could use to eventually kick the habit. As time passed, this idea quickly morphed into something much less noble, and many companies started creating and marketing flavored cartridges that would be highly appealing to kids – all with the hope of securing a new generation of addicts to fuel profits and ensure long-term company stability.
It's not just addiction that poses a threat to people who take up vaping. Many of the formulas contain chemicals like Diacetyl, which is related to popcorn lung, heavy metals including nickel and lead, cancer-causing chemicals such as herbicides and pesticides, and volatile organic compounds, just to name a few of their impurities. When inhaled through a vape pen, these chemicals are puled deep into the lungs where they can embed and, over time, create serious or fatal vaping illness – even in people who are young and otherwise healthy. The CDC has labeled this new group of diseases EVALI (e-cigarette, or vaping, product use associated lung injury) as more and more serious cases crop up across the nation.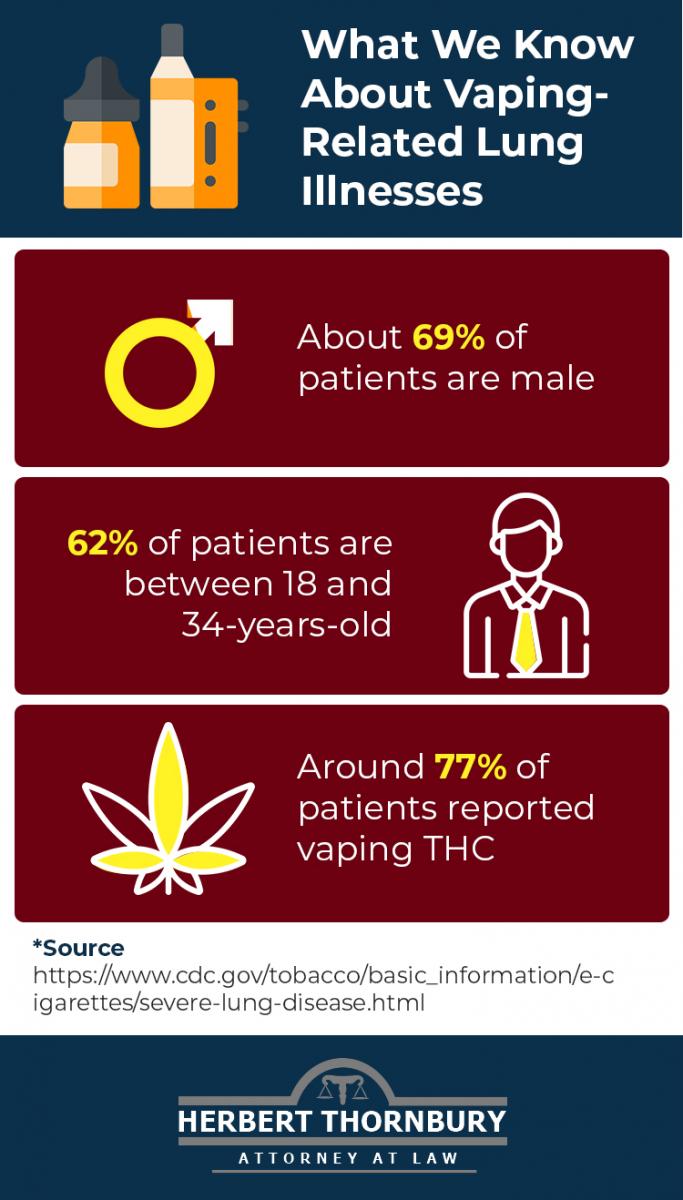 Unregulated Formulas
It is important to remember that risks are heightened when e-cigs are used to vape unregulated products like THC. Many of the cases in the recent outbreak of lung injury associated with vaping are linked to pods or cartridges bought illegally. While it is generally unsafe to inhale any type of recreational drug, risks are increased when the production of those drugs have no regulatory oversight. Unfortunately, it is exceptionally easy to use unregulated products with JUUL and other vaping devices, further increasing risks for youth in particular.
Holding Vaping Pen Companies Accountable for Lung Illness & Injury
If you or someone you love has sustained an injury after using a JUUL device or another type of e-cig, you may be entitled to take legal action and hold the company behind the device accountable for all related damages. This may include:
All related medical expenses
Wages lost during recovery
Loss of ability
Forced changes to lifestyle
Emotional duress
Physical pain
These damages may have been the result of intentionally misleading marketing practices, poorly produced or tested products, or any number of other factors. Having a JUUL vaping injury lawyer investigate your claim will help identify the cause of the injury and start to process for seeking fair and full compensation.
Please call our Chattanooga office at 423-752-0544 to schedule your complimentary vape pen injury consultation today. Mr. Thornbury and his associates serve victims of EVALI and vaping illness in Tennessee and nearby communities in Georgia.