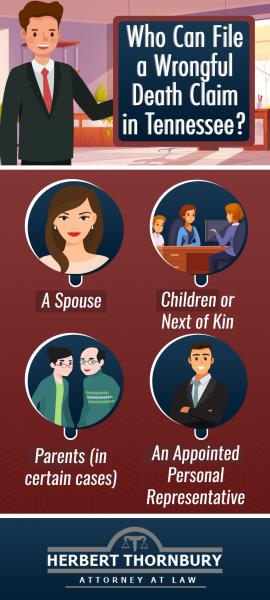 Wrongful death lawsuits are intended to provide families with needed compensation following the untimely death of a loved one in an accident. Common causes of fatal injury that may prompt the filing of a wrongful death lawsuit include motor vehicle accidents, boating accidents, premises liability cases, and workplace accidents. In some cases, surviving family members of victims of violent crimes may also be entitled to take legal action and seek compensation for their loss.
In the state of Tennessee, a surviving spouse has the first option of filing a wrongful death claim. According to Tennessee State Code, in cases where there is no surviving spouse, a wrongful death claim may be filed by, in this order:
Surviving Children
Next of Kin
A Personal Representative of the Decedent's Estate
Parents
An Administrator of the Decedent's Estate
If you have lost a loved one and would like to know what your options might be, Herbert Thornbury is here to help. Use the contact form on this page or call our Chattanooga office today to schedule a complimentary review of your case, your rights, and your options.
Wrongful Death Damage Caps
In the state of Tennessee, there are limits on the amount of compensation family members can seek following the wrongful death of a loved one. While economic damages, such as end of life expenses, related medical expenses, and other provable expenses are not capped, non-economic damages are capped at $1 million per person. There may be other caps as well, such as caps on punitive damages, in certain cases. This makes working with an experienced wrongful death lawyer all the more important.
Herbert Thornbury has decades of experience helping families get fair compensation following the loss of a loved one. Compassionate, attentive, and proven, Mr. Thornbury will take time to understand your family's unique situation and do everything possible to ensure the most positive results.
Please call Herbert Thornbury, Attorney at Law at 423-991-2231 to schedule a free consultation today. Located in Chattanooga, Attorney Thornbury fights for the rights of families living throughout Tennessee and nearby areas of Georgia.